day 1 | day 2 | day 3 | day 4 | day 5 | day 6 | day 7
My first self-inflicted retreat was in the spring of 2001. I grew up Catholic and weekend retreats were a semi-common occurrence. But with adulthood, and with leaving Catholicism (transcending Catholicism?), I figured retreats were a thing of the past. And then, 15 years later, in a rare still moment when I found myself pondering my stress and restlessness, the word "retreat" popped into my head. This wasn't an easy concept to explain to my family and to my friends. The closest I got to making any sense was by saying, "I want to take a vacation, but by myself." But that was still considered a very underwhelming description.
Failing to present a clear picture of what I was attempting to do, while still being certain I wanted to do it, I promised my friends and family a "journal of my journey."
---
Sent: Sunday, March 25, 2001 8:01 PM
Subject: day 1
Welcome to my head – I'm on a different kind of vacation this week. It's a vacation flying solo and hopefully an opportunity to dig deep. I'm very big on journaling these days, and rather than just keep this between my head and my hands, I decided to share these thoughts with those that I think know the real me best. Do with this mail what you will. The only disclaimer I'll add before digging in is that the thoughts that stream from my head are by no means coherent or complete. If you visualize that I'm speaking this to you, I think it'll be pretty easy to tolerate the gear shifts in my writing, because they're similar to the gear shifts in my talking (and if you've gotten to know me, you obviously know how to get past these gear shifts). And away we go …
—
Bags are checked, I pass through the security stop, approaching my gate. Two more items on my to do list — I call Charu for one last check-in. I'm already slipping into the escape of this vacation, but I'm reminded that the reality remains there for Charu, as I hear over the phone Luke bellowing from the back seat as she makes her way down the interstate. Last "I love you"s and then I sign off. One more item on my list — I call my folks on their cell — no answer — I say my peace to their answering machine — "I'm shutting off the phone, climbing on the plane, where I will begin to, as Jagdish says, 'go within'." I push the power button on the phone and feel the detach. My last avenue of contact closed.
I poke the headphone plug in the jack and flip the dial on my armrest. I had already nominated U2's "Beautiful Day" to be my theme song for this trip. How fitting that that very song oozed from the headset. The song is all about perspective, and about enjoying the moment. "It's a beautiful day, don't let it get away." I look out at the rain spraying my window — it is a beautiful day — and today is all about not letting it get away. Not letting it get away is exactly why I took this trip…
Retreat means withdraw — a backtrack in your course, designed to gather yourself, assess the situation, and make adjustments as necessary. Retreat typically is thought of negatively – you holler "retreat" when you find yourself in a position you weren't prepared for. But the negativity is misplaced. Losing the battle doesn't have to result in losing the war. Retreat is actually the only positive way out of a situation for which you were not prepared. It's the most sparing move, and recognizes the need to change.
I've been running a course now for some time – and it's been pretty effective. At least I thought it was effective. Taking an objective look over the last couple of years, I began to see the level of effectiveness of that course decreasing. I didn't have to carry that decrease too far into the future before I saw a situation where I was anything but effective. I saw too much time slipping away. "Retreat!" I hollered. It was time for me to regroup — to take a good hard look at the priorities in my life – and to exact a change of course. And so, here I am, taking a week away from the world to gather, assess, and adjust.
"What you don't have you don't need it now, what you don't know you can feel somehow" Bono insistently cries as "Beautiful Day" comes to a close. Just like a meeting organizer that takes the last five minutes of the hour long meeting to recap the key points from the meeting, Bono is making sure you come away from that song with the right frame of mind.
If only it were that easy, huh? Someone says "dude, wake up, look around" and that's all it should take to bring someone to their senses and make them realize that they are falling out of touch. We know (if for no other reason than by doing a little self examination at how positively we react to someone saying exactly this to us) that it's not the presence of the teacher that makes the pupil emerge. It is, instead, the presence of the pupil that makes the teacher emerge. A person has to open themselves up to learning before they can be taught.
So I begin the trip simply. I take note of what's going on around me. I observe. I don't let it get away. Simply put, I let it affect me. Every moment of every day we have an opportunity to let something affect us that we normally tune out. The goal is to tune in.
Today's tune in: my taxi driver began the ride by taking a call from his wife (on speakerphone – don't ask me why). She makes the comment "you sound happy, must have a passenger." He laughs – it's obviously been a slow night. I'm figuring on having to listen to the driver talk about too many cabs, or too few flights, or something to further the statement his wife made. The driver doesn't entertain that notion for an instant. He points at two pictures on his windshield, "that one's a lawyer and that one's a lawyer." I realized that I've just been cornered by a very proud father. But that's just the beginning. Over the fifteen minute ride to my hotel, the driver produced no less than five letters of acceptance, ten newspaper articles, and five keepsakes (including one child's alumni card), all evidence of his children's accomplishments, and all encased in plastic to ensure that every passenger in his taxi has the opportunity to see what his children have done, and to smile and appear bashful when you congratulate him on his children, and on the obviously good job that he and his wife had done to raise these eight children, six of which attained Masters degrees. This driver was obviously pretty tuned in. I think he could have the slowest shift of all the taxi drivers, but you'd never know it (not unless the driver's wife helps clue you in). He knew what to spend his energy on, and what to ignore. Reminds me a lot of my parents – the same hard work, the same pride in our accomplishments, and the same ability to bypass the noise and recognize the truth. Today must've been parental pride day, because the movie on the plane was "Men of Honor", and while I thought this movie would be about a hard-nosed Navy diving instructor, it delivered some heavy parent/child messages.
---
Sent: Monday, March 26, 2001 4:55 PM
Subject: day 2
I forgot how much I enjoy getting in a car and hitting the road. Growing up, I was the one who hated long car trips. Now, I can easily go through a whole tank of gas before wanting to call it a day.
I remember when this fascination with the road (and particularly new roads) took root in me. In college, after I purchased my first car (a very fun '89 Honda Prelude), I used to cruise around the Blacksburg perimeter because the car was so fun. These trips progressed to cover a broader and broader perimeter, until I was finding back roads to Roanoke, nearly an hour away. I didn't notice at the time, but it's obvious looking back – the car was probably the initial fun. But, once the novelty of the car wore off, the attraction that kept me wanting to drive was the time with my thoughts and the opportunity to explore.
After graduation from college, I decided to try to the ultimate road trip and drive out to Seattle. John joined me and we took a less-direct route (through Canada, eh) from coast to coast. While I may had missed what was really interesting me about the earlier trips around Blacksburg, I knew from the moment we set out for Washington State what this trip was going to be about. John and I had spent the previous nine years becoming the best of friends, and this trip to Washington was our last chance to spend time together the way we always had. Out of college, we were both about to enter the professional world. But my offering was in WA while John's was in VA. It was part of our unspoken plan to never call out, while making this trip, what it signified. John and I were enough in-tune with each other to not have to spell it out. And I'm pretty sure our motivation there was to not cast a sad light on this time together. Instead, we made the most of it by doing what we'd always done – talk about random things, take a lot of random pictures, play a lot of random music, and have a lot of random laughs. The pictures from that trip are priceless. And while they're probably far less interesting to everyone else, John and I can find a plethora of inside jokes and memories in that pack of pictures. Don't you love pictures like that?
The road trips continued in Washington. I remember the late night strolls around the I-425, I-90, I-5, SR-520 loop. Not much exploration going on there – could drive that route with my eyes closed. But the time with my thoughts was always an exploration. For a trip that allowed both mental and physical exploration, I'd head East until I got over the Cascades, then find a new way back. Beautiful countryside, beautiful revelations.
I could go on forever detailing my road trips, most notably the three trips across the country (with John, then with Charu, then with Dad). But you'll have to wait for the book to get those stories. Now let me shift back to talking about road trips in the present tense (well, at least present a few hours ago). I got to the rental store to pick up the car. The attendant made a couple of key statements in our dialogue. While inside, he said, "you're a long way from home." While that is true on so many levels today, it didn't feel that way at all. I've been feeling nothing but "nearness" since boarding the plane yesterday. When we got out to the car (I even chose a car that would maximize my exposure to the world around me … a convertible!!), after demonstrating how to control the top, he started to push the button to close the top, saying "you won't want the top down today." He was referring to the 45 degree temperature.. I laughed and said "don't push that button – look at this sky and tell me how I could live with myself if I raised the top." Even as I said it, I thought I was nuts and that five minutes down the road I'd be on the shoulder pushing that button. That never happened.
Destination: Virginia Beach. This is a two hour trip when you jump on I-64 and head East. But, as has always been typical for my road trips, a direct route is the last thing I'm looking for. I thought about the last time I had toured U.S. Route 60 East of Richmond – I did it on my bike while I was home one time from college. I only got about 30 miles East of Richmond, but from what I saw, I remembered loving the route. So I chose Rt. 60 for the start of my trip. I use the interstate when I just want to get there . I use the highway when I want to enjoy the trip itself. The interstate is a pretty sterile environment. While you can take full advantage of the views from an interstate, there's little more than that to make you smile. The highway is very different. Houses come right up to the road, little waysides pop up in the median, and you wind through cities and small towns. If you're looking for beauty, get off the destination-focused interstate. I always used to comment on Rt. 11 on our way to Virginia Tech. It was a highway that shared the same valley as I-81. I commented on it because, over the course of the 100 miles that we drove on I-81, every other exit was an exit for Rt. 11. Today, I saw that as a sign to not only think of the destination, but of the trip. I thought of this today because, as I was going down Rt. 60, every left turn said "To I-64." I saw that as the pressure to rejoin the day-to-day and forget my little retreat. That pressure is definitely there. Not so much a pressure as a force of habit.
Force of habit is a tough one. As I sat down this morning for breakfast at Aunt Sara's Pancake House, a little triangle peg solitaire game caught my eye. I immediately reached for it and started to configure the pegs. I stopped myself, saying "step away from that challenge – walk away from that game – get your mind on what you're doing here." When I reached Virginia Beach, I passed by a newspaper stand, saw a headline about the Oscars and stopped to see who won what. I again intervened, saying "do you really care about that right now?" As I sat to type today's report in, I logged on to get to mail, and saw 80 new messages. Out of habit, I started scanning the titles. "Stop!" I said. "This is definitely not the time for work." I almost set up an inbox filter that allowed me to see responses from you guys without showing me any work mail, but I kind of like being reminded of that challenge on a daily basis during this trip. The distractions are going to be there. I have to choose to ignore them.
Back to today's road trip. Nearing Virginia Beach, I passed through Hampton, which is where Holy Family Retreat House is located. This house has a special place in my heart, and I realized recently, after recounting it's significance to a friend of mine, that she was the first person I had ever told this story to, even though the story is over 15 years old. And with the added relevance to my current retreat, I feel obligated to share that story with you.
My epiphany happened on a "Christian Awakening" retreat back in '85. Up until that point, I was very methodical about my religion. I went to church because my parents went to church. I believed in God because my parents believed in God. I accepted communion and got confirmed because my parents did the same. At the time, I thought the last thing I needed was to be awoken. I thought I knew what was going on already. I was in for it. At some point in that weekend filled with people and conversing and comparing notes, I found myself alone, standing atop a concrete garden bench, scanning the reeds in the inlet in front of me. At that moment, I decided to "let it all affect me" and I asked the question "where are You?". The answer came the very instant I finished the question. The perspective came in that instant. The inlet, the reeds, the garden, the trees, the wind, the air I breathed — God was all of that. God was in the very question that I asked and in the decision that preceded that question. There was a completeness that I had never felt before. Though this happened nearly 15 years ago, I can remember ever step, every gesture, every look, and every thought of that day. That's the beauty of these epiphanies, they don't go away. The demanding side of me wants more experiences like that every day. And, to be honest, they happen again every time you encounter someone else who has had a similar experience. Your guard is down, and it affects you. And there's a recharge that comes in every one of these recounts.
I paid that garden bench another visit today. I had even intended to take a picture of it (as well as the view from it) to add to the story, but my camera did not cooperate (discharged battery). Perhaps during my return trip tomorrow I can stop by and capture that image.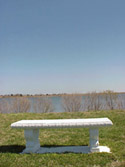 Added in the future:
Indeed, I did return the next day and took that picture!
But the only copy I could find was a near-thumbnail. Better small than not at all.
I'll dig around and see if I can find the original.
I stood atop the bench again, and it felt very familiar. The difference was that this time, I was already dialed-in before I got there. I was already seeing the beauty. I already had the perspective. It was an excellent feeling. Speaking of perspective, and speaking of standing atop things that weren't necessarily designed for standing, I have a must-see movie for you guys. If you've already seen it, watch it again. The movie is "Dead Poet's Society," At one point in this movie, the teacher stands on top of his desk and asks the students what he's doing up there. The students take some guesses, and then the teacher replies "I'm reminding myself to look at the world from a different perspective." I didn't connect this statement with my "standing on a garden bench" epiphany at the time, but in my most recent viewing of the flick, it hit me. The challenge is to keep letting it affect you.
And now, to rat-hole even more (that's geek-speak at work for when we get off topic and continue to drill down into one specific point), I'm going to bring up some more must-see movies that are full of perspective.
Unstrung Heroes. I can't do this story justice in a synopsis, but there's an excellent quote from this movie. The son asks his mother what a hero is, and the mother responds saying "a hero is someone who finds their own way through this world." If you like that line, and the thoughts it conjures, watch this flick.
The Matrix. Yes, this is a sci-fi flick. But it's so much more than that. At one point, while Cipher sits staring at a debug screen spewing seemingly unintelligible code at a very fast rate, Neo asks, "how can you make any sense of that?" Cipher responds, "after a while, you don't see the code at all. All you see is blonde, brunette, redhead." Cipher is watching the "code" for another world, and he's moved beyond the literal of that code, to the meaning behind the code. He's seeing the bigger picture. And it's all about perspective. That code is the same as the first day he saw it, but Cipher knows how to focus beyond the individual elements of the code to see the larger structure.
The Hurricane. What I love about this story is the power of the mind – and the strength that comes from being able to focus that power. The fact that this is a true story makes it that much more inspirational – the truth is inspiring. Men of Honor is also a true story – and it is also very inspirational.
Enough Siskel and Ebert action. Just like my long and winding route today, this mail has been long and winding. In the interest of eating some Virginia Beach seafood, I'm going to draw to a close now. But not before giving my "today's tune in."
A car is "in-tune" when all pistons are firing and the pistons' timing are dead-on (of course I'm sure that John, Joe, and Dad will now chime in to tell me the other five to ten requirements needed to achieve an "in-tune" rating – but hopefully you'll get my point even if I can only name half of my engine parts). A person is "in-tune" when, metaphorically, that person's pistons are all firing and the pistons' timings are dead-on. Being in-tune with yourself does not mean being out of touch with reality. While I was tuning-in within myself today, I would have wrecked the car had I not also been tuned-in to the reality of the road, the cars, and the people. Being "in-tune" is about all of your brain and all of your levels of awareness firing. Being "in-tune" is about balancing these levels.
The reality of Blue Crab is calling me. Good night!
---
Sent: Wednesday, March 28, 2001 2:11 AM
Subject: day 3
Added disclaimer for this report – please note the timestamp on this mail – it has been a very long (very enjoyable, but nonetheless very long) day. So if I wander a bit more than usual, hopefully you'll understand.
I believe that, for every friendship, there is a single event, a single time spent together, that can serve to sum up that friendship. That's not at all to say that all of the other times spent with this person have no meaning. But this quintessential moment stands out above all others.
Today, upon my return from Virginia Beach, I met up with a good friend from Richmond, Kellie. Kellie and I have known each other since high school, and beyond our time together at Manchester High School, we both attended Virginia Tech as part of a group of friends that migrated together from home.
The single event that stands out with Kellie is the time that her and I took a little road trip (ah yes, another excuse to hit the road) to the New River, about 30 minutes outside of campus. By day, this hangout was all about tubing the river. By night, this hangout was all about the gang sharing stories. Normally, when making a trip to the New River, it involved a group effort of no less than six of us. But this time it worked out to just the two of us. The semester was drawing to a close, and all that separated us from finals was a day break between the end of classes and the beginning of finals. That's probably the best explanation for how the group whittled down to just the two of us: everyone else was convinced that more studying was necessary, while Kellie and I were convinced it wouldn't help us.
So, off to the New River we went. Once there, we had one of the deepest discussions that I believe we had ever had. As we reflected back on the college years gone by, we started bringing up some past personal struggles that had gone unnoticed. We talked about struggles in relationships, struggles in school, and struggles in life. I really don't even recall how long we talked that night, but based on the ground we covered, I can't imagine it was any brief window of time. We returned late that night, to campus and to reality. The reason I find this event so representative of our friendship is because Kellie and I, though exploring our world from seemingly opposite poles, always found opportunities to catch up with each other about the good and bad in our journey. There was a candidness there that had been established pretty early in our friendship, and grew over time as we drove back and forth between Richmond and VT (she was Cameron to my Ferris – I was the mooch and she was the car owner). This night at the New River was later in college, when I think we had reached a high degree of openness, that I still, to this day, see and value in our friendship.
Back to the present. As we exchanged e-mails before getting together for dinner (or at least that was the original plan), I was asking about time restrictions and Kellie brought up the fact that she gets up at 5:30 am for work. I jokingly responded "well, I guess the New River is out of the question." (we were four hours from Tech and another 30 minutes farther from the New River). When we finally hooked up at quarter 'til 5, we started talking about Italian vs. Mexican vs. whatever. We agreed to decide the restaurant in the car, so we hopped in and off we went. As we rolled out of her subdivision, Kellie said "let's go to the river." I responded "oh, the James?" (that was about 10 minutes away). Kellie laughed "no, The river!"
Being in the mood that I'm in from this trip, I only hesitated for about five seconds before saying "let's do it." We pointed the car towards Rt. 360 and started working out the logistics. We agreed to head in that direction and, if we decided it wasn't practical, we'd turn around and find some dinner. Then we started figuring out how four and a half hours there and back, plus time to spend at the river would figure into Kellie's wakeup time of 5:30. No problem – we'd have four and a half hours + the time at the river to chat, and then Kellie would sleep on the way home. Get Kellie in the car by 11:30 and all is well.
Well, the word "impractical" never came up (I'm not sure that we've ever uttered that word when referring to any scheme that the two of us have devised). Since the end of college, I'm not sure that Kellie and I have ever had any quality time together to talk the way we used to. But you wouldn't have known it today – it felt like we were picking up right where we left off! The trip was full of so many memorable moments, including hunting through K-Marts and Wal-Marts looking for gloves, hats, thermals, and flashlights (it was, after all, about 30 degrees at Tech), the requisite stop at Krispy Kreme donuts, getting lost more than once as we tried to retrace the path to the New River (it didn't help that they went and put up new buildings to wreck our reference points), and Chik-fil-a nuggets (yummmmy). But there was, above all else, another great talk at the New River. With the five hour lead-in time (when you figure in the Mart-Mania), we had already achieved a significant level of depth. At this point, we were looking around and pulling up old memories, as well as adding new stories to the mix.
The opportunity to experience that quintessential moment again with Kellie was priceless. And don't think Kellie is the exception here. I have these single events for all of you. And while the thought of reliving these moments with you all again, just as Kellie and I did today, is grand, I'm also on the lookout for new defining moments to eclipse our past. Just like I said about my road trip stories, you'll have to read the book to find out all these moments.
I love you all so much – and I can't thank you enough for all the great memories that are waiting to make me smile whenever I come across them. Looking forward to more and more moments.
Today's Tune-in: memories aren't just for living in the past – they're the basis upon which to move friendships forward, and to keep friends close regardless of physical distance. The name "New River" in my e-mail undoubtedly gave Kellie and I the context necessary to pull all of our shared memories (that we could recall, at least) to the front of our minds, allowing us to easily pick up where we left off.
Who needs sleep? I need sleep. Good night all! Another Beautiful Day!!
---
Sent: Thursday, March 29, 2001 2:41 AM
Subject: day 4
Yet another disclaimer: I'm a day late on this report because I went to bed early at the end of day 4 to recoup from day 3. And since I only seem able to write these days at night, that meant a whole day behind – this report is late tonight because of a huge mental block I had between the thoughts I'm about to relay and the keyboard (thanks to John Coe for getting me past the block – thanks dude!)
"Think priesthood!" Father John Leonard said this to me no less than 5,000 times during our time together at Saint Edwards & Epiphany parishes. And Father John excelled at finding unique ways to deliver his message to me. His favorite approach involved communion. I would approach the altar, in Father John's line (it is worth noting that if I truly minded this approach, I could've always opted to receive communion from a different Eucharistic Minister – so I was, in fact, setting myself up for this every time), he would first say the traditional "Jeff, this is the body of Christ", but before I could respond "Amen", he would slip in "Think priesthood." Definitely persistent. But it was one of the many things about Father John's personality that I absolutely loved. Father John is the first priest I'd ever described as "passionate." Up until this point, I had seen priests as mass directors. Father John showed me the potential of that position. That's not to say that he came close to convincing me to pursue priesthood, but certainly not for lack of trying. What he did do for me was begin to open my eyes to the participatory nature of church. He found me reading during school services at St. Edward's and made me a lector for his Sunday services. But to make sure that I was "getting into it" (and thus helping the congregation "get into it"), he would make sure I added a bit of acting to my reading (the first being an arm gesture as I spoke "and, with an outstretched arm, he led them through it.").
Today, I met up with Father John (a little late to our meeting based on day 3's overrun) at St. Michael's, his new parish. I caught him up on my family, and then we did a bit of reminiscing. He recounted one story that I only wish I had remembered, because it takes the "think priesthood" story to a whole new level. One Sunday, as we were just about to start mass, Father John came in to put on his robe. I was in the room practicing my reading. Father John made a typical plug to "think priesthood." For whatever reason, I decided this time to respond, and said "I'm not sure it's for me, Father. I kind of like the idea of marriage and everything that goes with it." We had just entered into the priest/sex talk. Father John quickly came back: "Well, Jeff, if you've just never had a Coca-Cola, you wouldn't know that you were missing anything." I responded "Well what if I've had a sip?"
As we wrapped up the reminiscing, we got to talking about Charu and Luke, and about the religious differences between our families. I told Father how Charu and I began our relationship (unknowingly at the time) with a deep talk about our faith. And we had found more similarities than differences in that discussion. We have revisited that conversation many times since then, and the same holds true today. This lead us to the hard truth that I was prepared to tell him – that I had left Catholicism and Christianity. When Father asked "what are you now?", I responded with "still looking." This brought the conversation right in line with the reason for my trip – exploring (both inward and outward). I explained to Father what had lead me to this point, and how my exposure post college to so many cultures with such different religions had me questioning the worth of Christianity over these other religions. Respecting all of these people, it was natural for me to build a respect for their religions. I probably didn't go into enough detail with Father on how this got me to the leap away from the religion I was raised under. It's a hard leap to articulate. I looked at the religions universally, saw the moral values that each were promoting, the need to explore that most were promoting, and other similarities, and decided that, universally, all of these religions were different means to the same end.
This took our discussion into the journey. I echoed my concern that many individuals that I knew that were part of organized religions seemed to be going through the motions, more in autopilot, and unable to describe their individual faith. This was the cynic in me talking, but I do believe there's truth to this. And so I told Father that, while he may have been a little off target in his "think priesthood" recommendations, I did see it in my future to try to improve the situation for these people that I claim are on autopilot, to try to answer the call to action and make these people recognize their journey. I told him that I still had no idea how exactly I was going to do that, but that writing was the first step, because it helped me to better explain my journey. We talked a great deal about the individuality of each person's journey, and that, in the end, the person needs to abide by what they feel inside, in their heart.
Today's tune-in: I count myself as very fortunate to have people around me such that, regardless of what struggle I'm having, there's someone there that is willing and able to help me through it – this is as true for what I reported today as it is for the mental block stopping this report that John got me past. And as I truly believe that we should give more than we receive, your all's being there for me challenges me to be there for you.
---
Sent: Friday, March 30, 2001 1:19 AM
Subject: day 5
On a completely different note, today was Mom and Dad day. Today's report is short and simple — it can be summed up entirely as "today's tune-in".
Today's tune-in: It feels great to spend time with your parents. Just you and your parents. Go spend the day doing whatever random activities give you the opportunity to walk, talk, laugh, and cry (figuratively and/or literally) together. If weather permits, tomorrow will be the three of us heading to The Peaks of Otter for a good hike. Here is a poem that I wrote at Christmas and gave to my parents and Charu:
Time to Live
Time?
Where is the time?
Beyond the daytime away at work?
Beyond the nighttime routine at home?
Beyond the weekend chores?
The time to be partner and parent?
The time to search yourself?
The time to write these words?

Seek out the moments.
Don't squander those opportune seconds wishing for minutes.
Sway with your partner as you did the first time you danced.
Hold your child as you held him the day he was born.
Savor every instant.
Live.
I remember clearly one remark my Mom made after reading this poem. She said "as for holding your child as you held him the day he was born, he won't let you anymore!" Love your parents and let them love you!
---
Sent: Tuesday, April 03, 2001 8:01 AM
Subject: day 6
preface (I'm not even going to call them disclaimers anymore): The final trip reports have been delayed because I decided it was more important to live in the moment than to stop everything and write these reports. Friday and Saturday were very full with road trips and visiting family/friends. Now, at the start of Tuesday, I've found some free time (before Luke wakes) to at least cover Day 6.
The Peaks of Otter are two mountain peaks in the Appalachian Mountain Range. They're (not surprisingly) located just off of The Blue Ridge Parkway (for the non-Easterners that's a road that runs along the Appalachians – very beautiful, very scenic). My folks and I had planned to take a trip to The Peaks of Otter on Thursday. But the weather was foul to say the least that day. So we postponed, hoping that Friday's weather would cooperate. We were not disappointed. Friday began with a lingering cloud cover, but by 10am I heard Mom calling from the other room "I see the sun!" So, we hopped in the car and headed West.
We rode with the top down through the neighborhood (it was still a bit too nippy to leave it down on the faster roads – at least while anyone was in the back seat). Honestly, I did this to get my folks hooked. I figured they'd so enjoy the top down that at a point later in the day they'd ask for that experience again.
I'd say that most of this trip was basically an excellent extension of the prior day – the three of us on our own sharing some memories, some laughs, and some thoughts.
Arriving at The Peaks of Otter (a little confused by the trails – it has been over ten years since my last trip there), we got set for the big hike. We had two options, a 4.4 mile hike to Flat Top (elevation X) or a 1.5 mile hike to Sharp Top (elevation X-200ft). This is where Karl would be saying "take the 4.4 mile hike – sounds a lot like Mt. Si – do it!" Sorry to disappoint, Karl – the extra 200 ft wasn't worth it. And besides, the better view was off of sharp Top (not surprising based on its name – from a single point you had a complete 360 degree view). As I had learned from all you Boy Scouts out West, never take a hike unprepared. So, we had stopped (at the same K-Mart in Lynchburg, Kellie!!) to buy a little backpack which I used to store some extra clothes, water bottle, toilet paper, flashlight, and my cell phone (sorry Rattlesnake Ridge Riders, no Duraflame log!). The cell phone was an especially amusing choice, as the signal had been dead for the last 40 miles of the trip. But that's me, the eternal optimist.
Off we went on our hike. The key was a slow pace. We were in no rush to the top. As had been true for the rest of the week, today was no exception – enjoy the journey! At every switchback, there was a clearing through the trees that allowed us to assess how the view was improving. After about 45 minutes, we reached a point on the trail when it was decided that the view was sufficiently beautiful for Mom and Pop. It was gorgeous. At this point on the trail, we were going straight up along a ridgeline of the hill, exposed on three sides. So, you had a very nice 270 degree view. My folks, demonstrating their ability to compromise on the full 360 and appreciate what they had, decided that at the 270 degree viewpoint, they were going to stop and enjoy the view while I, incapable of settling for less (trust me, I'm not saying this in a good way, even though it may work out for me today), journeyed onward and upward.
The slow pace was off, I was on a mission now. While we had strolled the first half of the trip in 45 minutes, I accomplished the last half of the trip in 15. At this point, it was less about the journey and more about the destination (that happens sometimes — not always a bad thing – it's that balance again). Upon reaching the top, I looked around in awe. The towns and highways laid out below me to the East. In the other three directions, mountains peaked with a haze that gave them a blue aura. As I had reached the rock peak, another hiker was just reaching the peak. We used this opportunity to trade pictures. Not much later, that hiker had to go back down – he was on a tight schedule. That gave me something else to be thankful for on this day – another day sans tight schedules. As the hiker disappeared down the trail, I was left alone with the peak, alone with the view, and alone with my thoughts. I spoke about perspective earlier in the week, and it's not surprising that, from this perch, there's a lot of perspective that comes to you. The insignificance of an individual was my initial thought. From this view, with greatness surrounding me, there wasn't a single aspect of that view that people had created (I'm obviously ignoring the towns and highways to the East – play along). It was a beauty beyond their capability. It's definitely at times like this when a quest for purpose is a bit more daunting. My take? Set my sights on attainable goals. Seeing beauty of this caliber doesn't tell me that I'm worthless, it tells me that I should be focusing not on building mountains, but on building smaller wonders. I can live a very frustrating life by going to bed every night saying "Today, I was still unable to build a mountain." Or I can live a very fulfilling life by going to be bed every night saying "Today, I made someone else aware of that mountain – appreciative of its beauty while humbled by its un-attainability."
As I prepared to exit this natural sanctuary, I opened up my bag and saw a green light on my cell phone. Being unable to explain how that was possible (I need John and Ashish to explain to me how far a cell tower can reach in open air), I wasted no time calling Charu, then John Bogdan, then John Coe. Among other things, I spoke with them about how, in a time of growing cell phone usage, more and more people are using those phones inappropriately. And how I'm sure that, had anyone else been on that hilltop with me, they would be calling my usage the most inappropriate imaginable. But I contend this is the best part of cell phones – giving people an opportunity to share in the present tense, where that opportunity never existed before. John can ask "what does the parkway look like from there?" or "how far can you see?" Charu can ask "what are you feeling right now?" Questions that can be asked and answered in the present tense. Without the cell phone, I'm still able to stand alone atop a mountain peak while still feeling very grounded and connected (perhaps more so than being at ground level) to others. With the cell phone, I'm able to share these feelings as I feel them. Geez, this turned into an ad for cell phones – sorry dudes (although Ashish, Mr. Nextel, certainly isn't – John Coe, you can pass this one on to Ashish).
I took a deep breath and a long stare as I turned, taking in the experience in its fullness. I threw my backpack straps over my shoulders, gave the straps a tightening pull, and headed down. In another attempt to feel closer to someone who was far away, I decided to run down the trail. Karl and I had done this (regrettably, but nonetheless memorably) years ago on a return trip down Mount Si (a longer and steeper hike). I remember the laughs we had on the trip down, as well as in the days that followed as we saw the other at work limping through the halls. And as I hopped down the trail, I felt Karl next to me taking every hop. How can I ever feel alone? There are so many ways to feel so close to so many of you, that I will never feel alone. And for that, I thank you!
Fifteen minutes later, I encountered my parents a few hundred feet from the trailhead. We shared our hiking stories as we packed up at the car and headed over to the nearby lodge for some drinks. It was, at this point, that the seed I had planted earlier showed that it had, in fact, taken root. As we got back in the car (the top was down at this point), Dad climbed in the back. I told my folks that as soon as they got cold, I'd put the top up. Dad did the appropriate bundling to keep his extremities warm, and Mom was sufficiently close to the heaters up front, so off we went. If you ever have a chance to experience the Blue Ridge Parkway in a convertible, I'd highly recommend it. The only thing better would be experiencing the Parkway on a bike (or skates, perhaps)! We were about 30 miles up the road before the falling sun combined with the higher altitude forced us to the side of the road to raise the roof.
We ended the day with soreness and fatigue that would last a few days, but with memories that would far outlast that!
Today's tune-in: take a hard look at the list of goals you've set for yourself – any mountains in that list? I'm not saying you shouldn't dream big, on the contrary I'm a huge fan of "go big or go home." But you have to temper your idealism with reality in order to not spend this life frustrated and unsatisfied. Easier said than done, I know.
---
Sent: Friday, April 13, 2001 7:44 AM
Subject: day 7
preface: Remember, from day 6, that I said the remaining reports were delayed — today, I decided that the day 7 trip report was too important to delay any longer — so living in the moment today involved stopping everything else to reflect and record.
Day 7 was wedding day … Angela & Stacy's wedding — the original reason for my trip home. I had structured this week such that the wedding was the main event, the big attraction for which the prior week's events were all surges in this planned crescendo. And it did not disappoint.
Angela and I have known each other from college, where we met through Angela's Mom, Sally, whom I had been working with at DSR during my internship. The Napiers (Sally, husband Eddie, son Scott, and Angela) became my NoVa family during my subsequent internship, when I moved in with them for the summer. They're a great family that I have loved catching up with as time has allowed during my trips back to Virginia. Luke's entry into our lives made travel a bit more tedious, which meant that visits with the Napiers became fewer and fewer. This made the wedding that much sweeter, to finally see my NoVa family again, and at such a happy time!
The wedding was beautiful, set in a cozy pre-Civil War church in Madison. The Napiers seemed very dialed-in to the moment as the wedding commenced, and the way Angela and Stacy looked at each other as they met at the alter, it was apparent that they were equally dialed-in. The ceremony was beautiful in it's simplicity. Every step had purpose, every moment had depth. The reading was no surprise to me (because I've read this at just about everyone of my siblings' weddings), I Corinthians 13:
If I speak in the tongues of men and of angels, but have not love, I am only a resounding gong or a clanging cymbal.
If I have the gift of prophecy and can fathom all mysteries and all knowledge, and if I have a faith that can move mountains, but have not love, I am nothing.
If I give all I possess to the poor and surrender my body to the flames, but have not love, I gain nothing.
Love is patient, love is kind. It does not envy, it does not boast, it is not proud.
It is not rude, it is not self-seeking, it is not easily angered, it keeps no record of wrongs.
Love does not delight in evil but rejoices with the truth.
It always protects, always trusts, always hopes, always perseveres.
Love never fails. But where there are prophecies, they will cease; where there are tongues, they will be stilled; where there is knowledge, it will pass away.
For we know in part and we prophesy in part,
but when perfection comes, the imperfect disappears.
When I was a child, I talked like a child, I thought like a child, I reasoned like a child. When I became a man, I put childish ways behind me.
Now we see but a poor reflection as in a mirror; then we shall see face to face. Now I know in part; then I shall know fully, even as I am fully known.
And now these three remain: faith, hope and love. But the greatest of these is love.
Like all good writings, regardless of how many times I've read this, it will always give me pause — there will always be at least one phrase that will initiate reflection. This reading was no exception. While this particular reflection was too personal for me to share here, I will share this: savor the love in your life (this is just me driving the same point as day 5's Time To Live)!
At the reception, as we celebrated this new union, partners switched on the dance floor to share their thoughts and smiles. As we neared the end of the evening, I took a dance with Angela to give her some "big brother advice:"
"never go to bed angry" — this was really just the setup for #2 — you hear this one all the time, so it seemed a good place to start, as long as I didn't stop there.
"when you're mad, don't stop communicating — the most loving thing you can say to your spouse is 'I am mad at you', because it shows that you don't use communication as a weapon, withholding it when you're angry, and also that you can talk about things in the present tense." — communication is the fuel for the relationship — when communication stops, the relationship stalls.
"don't model your relationship after anyone else's" — I have seen far too many couples having arguments (I even remember Charu and I having a couple ourselves) saying "marriage is supposed to be like …" — what you see of another's relationship is only what is visible to outsiders of that relationship — what you don't know is what you don't see — for your parents, that's easy — you never saw them in the beginning of their relationship — you never saw their unique struggles as they grew together — and even as they grew together with you around, there was still plenty of work involved that may have been completely hidden to anyone beyond the two of them. So it's very easy to see the outward appearance of another relationship without seeing the work behind the scenes (that work being the actual relationship) that yield that appearance. Marriage is two people saying "forget what works for everyone else — you and I are going to make our own way — together!"
"renew your vows often" — In the movie "Keeping the Faith", the older priest is speaking to the younger priest about commitment. He says something like: "I don't see this as a commitment I made once a long time ago — this is a commitment I make again and again." And while my brother John has taken this statement literally (to the tune of three weddings to the same bride over the course of ten years — John, it's been over five years now, aren't you due for another renewal?), I'm not advocating that you have the ceremony often (although I'm not saying anything against it either — it was cool to see John and Christine get married all over again — like I said, make your own way), but renew the commitment with each other regularly. Look at your spouse and say "you and me, baby"; hold your spouse and whisper "always"; whatever works for you, keep the promise fresh. Weddings are always an excellent opportunity for a vows refresher. At my brother Jim's wedding, the priest did something very cool as the ceremony neared the end. He asked all the married couples to turn to each other and he did a "renewal of the vows for the masses" — it was beautiful to see this happening. I remember watching my parents recite these words to each other — you could see the freshness all over their faces.
Today's tune-in: I've already said it — read advice #4 again.